Suppose you are the one who hosts the event and is also interested in marketing. You may hear the word "SMS Blasting" more or less. It's an action to broadcast the message to many people at once. This is one of the marketing strategies to help you announce things and maintain the relationship with the target audience since the birth of the mobile phone.
An online statistic company StatCounter stated that people spend at least 5 hours daily on mobile devices. And since 2014, how we use smartphones has been way more varying and increasing continuously.
With only simple steps, SMS Blasting became one of the most comfortable communication channels to connect with your customers.
And SMS is one of the most required from many marketers as it shows less disturbing than the others.
If you never have, try sending SMS to your customers. These are six pros of the SMS Blasting system that you may consider and apply to your event marketing strategy for the upcoming event.
SMS Blasting is Clear & Concise
You can write it short and precise. And also, make your message align with what the receivers are interested in. Such as the auto-message that encourages the soon-to-be audience to decide to register for your event. And also can use SMS to inform about the promotion, notable occasions, or any confirmation messages.
SMS Blasting isn't limited only to text format. You can put the image on for more attractiveness, make it an MMS, or attach a link for detailed information. And schedule it at the right time.
But, you should only send the same kind of message occasionally because it may annoy some recipients. The most important part is to write a message that matches the readers' expectations. The more you can optimize the message, the more positive feedback you will receive.
With SMS Blasting, You Can Save Both Time and Budget
Comparing SMS Blasting with a direct phone call. You will find the difference in the number of people you reach within a few seconds. In addition, as the system requires less labor, you can save money and time (a lot). And you will never have to worry about the tension between phone calls ever again.
To say so, sending the SMS at the right time can impress your target audience/customer. They can decide when they want to read. It saves you time. And maintain the relationship between both sides.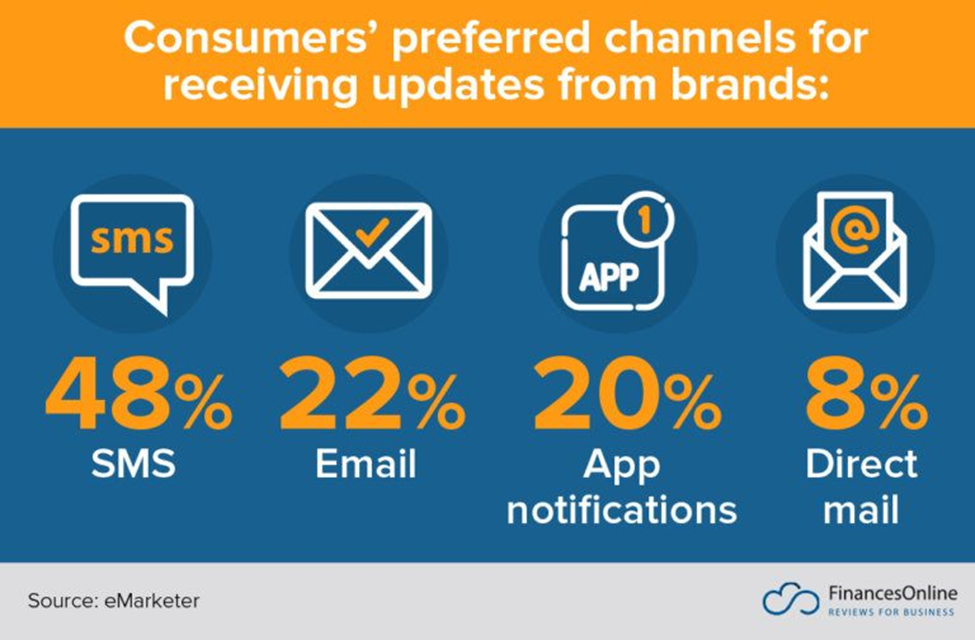 Stats from eMarketer and FinancesOnline reveal that consumers want to know the most updates from the brand via SMS. (financesonline.com)
The SMS Blasting Suits Every Kind of Audience
Everyone from teenagers to the oldest boomers nowadays has smartphones. So the SMS Blasting system was made for everyone. Especially with the elder, who need more digital literacy to deal with smart devices. But, vice versa, they have both time and money. So they can spend these two more on new activities after retirement, whether art, culture, literature, or health-related activities.
If these people were forced to deal with the ads from a more innovative platform, they might find it complicated and give up on joining the activity. And it's always good for people to keep this high purchasing power group from slipping away.
But with simple SMS Blasting. Even older people can open and read it in no time. And that's where you get positive feedback in return.
However, if your campaign needs IT literacy, let's say the digital or tech-based event. The SMS will sound too simple or too old-school. If you want to use it with this event, consider using it along with other channels that fit the target audience.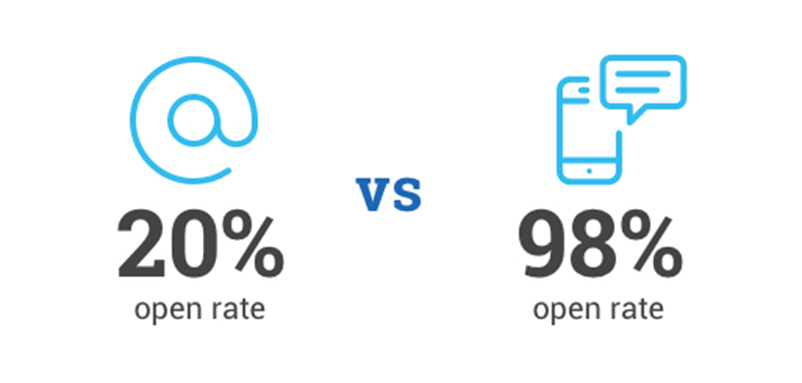 Even most people think SMS is too old these days. But from the report, we found that the SMS recipients are the highest group of people who open and read the message at 98%. Meanwhile, the other platform's open rates are only 20% because they often feel like it's just ads or the message is in their junk mailbox (messagemedia.com).
It's a Good Enhancement
SMS Blasting can support your other communication, whether social media, application, email, or website.
Because apart from the social media notification, you can also inform them through SMS about the date and time of live streaming, the registration URL, payment confirmation, or anything. Sending SMS and other channels messages can emphasize your trustworthiness and care.
Easy to Track the ROIs
SMS Blasting is low cost but gives you a high return. You can easily use it with your upcoming event or campaign to increase sales or reach any goal.

The image above results from one real estate agent using a 250 USD SMS Blasting system. They closed the deal at 20 real estate at the end and earned 137,000 USD in just a month. That's a 500% profit.
(messagemedia.com)
Make Your Audience Feels Important
You can start your SMS conversation using the auto-reply message; it's one of the most efficient ways to encourage people to take action. For example, getting them to do a satisfaction survey.
Here is another example, the Wilson Group wanted to know their customer's opinions about the foods and services. So they sent the SMS out after finishing their meal immediately. So that recipients can feel how caring they are and take action. After doing this, the restaurant has six times more positive feedback and stars on the Google review.
But it's not always come with pros; here are some cons. First, too many messages or sending messages during inappropriate times can annoy the readers. And if you send this old-school message with the high-tech event one, it may cause you non-innovative brand recognition.
But there are also more good things about the SMS; you can adapt it to your upcoming event. With a good plan, you can reach any target audience, whether online or offline. Here are some interesting stats in case you are still hesitating about using SMS or not (techinjury.net)
75% of the customers want to get the deal via SMS
60% of the customers read the message within 1-5 minutes of receiving
SMS has 98% open-rates
The CTR of SMS communication is higher than other digital channel at 9.18%
Conclusion
It's a time like this when the event organizers and hosts desperately try new ways/ideas to compete in the game. And that's where they forgot one of the most potent tools, SMS Blasting, which can help them reach many customers easily, quickly, and at a friendly price.
More importantly, SMS can connect with every kind of audience. It doesn't require any IT knowledge. SMS Blasting and other marketing tools can help you make the event more efficient in the long run with the broader audiences.
Happenn also provides the SMS Blasting service for both on-site and the virtual event. For more information, you can ask us directly by booking a free consultation meeting session here.